Digital Projects
For hundreds of our partner schools throughout the Majority World, access to educational resources in electronic format is not readily available. Erratic electrical supply, low bandwidth,  unreliable internet connections, and expensive internet access costs significantly limit access. The Network has three projects to help our partners access digital material in ways appropriate for their context.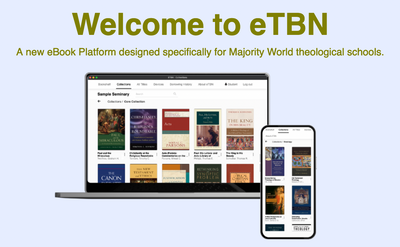 We have developed and launched a unique and exciting eBook platform exclusively for use by Majority World theological schools. Targeting current texts that meet key curricular needs, eTBN helps provide a foundational digital collection to global partner schools.
You can read more at www.etbn.global
A curated list of free online resources is placed in every shipped box and posted here on our website. The infrastructure and internet capacity at many schools does not support extended searching for relevant materials. This list allows scholars to more easily access the high-quality materials that are available.
The Network has developed a custom eBook platform that aims to meeting the unique needs of Majority World theological education. The platform, called "eTBN", is designed to deliver low-cost, highly-scalable, and technologically appropriate access to the resources needed most by our partner schools.
Central to eTBN are "Core Collections", packages of hundreds or thousands of titles that address the curricular needs of global theological schools. Such texts are unavailable or far to expensive to acquire elsewhere. Core Collections are uniquely scalable, providing simultaneous user access to 250, 500, or 1000 titles for participating institutions. All titles are currently in publication and under copyright by reputable and leading theological publishers -- no open-access or public domain works.
eTBN will also feature a Marketplace. In the Marketplace, participating schools can acquire additional titles to customize their collections. The Marketplace offers market-appropriate pricing for thousands of titles, putting thousands more texts within reach of global schools.
The first phase of the project will focus on English language eBook offerings. Despite the initial focus on English language delivery and resources, the platform is being designed to be multilingual. This will enable rapid deployment into other languages so that men and women can read and study in their preferred languages. Successful proof-of-concept tests to use the eTBN reader for Arabic and Sinhalese texts have been completed successfully.
The eTBN platform aims to launch by mid-2022.
"'Digital Libraries for African Christian Colleges' is a godsend!" - Eunice Kamaara, Professor of African Christian Ethics, Moi University, Kenya